Advance Course with Guru Ji In Delhi ,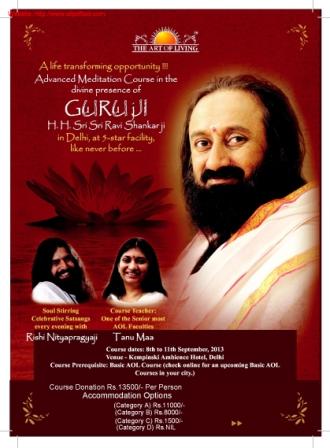 For More Informatiion Contact Anil Ji 8800660006 & Simmi Ji 8800553309
Art of Living Six Days Basic Courses
Every Aleternative Tuesday to Sunday

(Morning Batch):- Time:: 5.00 A.M - 7:30 A.M.
(Evening Batch):- Time:: 6.30 P.M - 9:00 P.M.
Sunday will be decided after discussion with participant
Venue:: Different Location in Faridabad
Contact:- Simmi- 8800553309;0129-2439309
Anil K Gambhir-8800660006
Sri Sri Sanskar Kendra


Just "As A sapling needs watering, to blossom Fully, young children need'sanskars' for nurturing human values" Sri Sri Ravi Shankar
,A course for Children between the age of 7 and 11 years.

Time:: 2 hours on Sunday
Different Location In Faridabad
Contact:-H C Choudhary 9911790070, Suchitra Sen 9873921215
Art Excel & YES !

Aleternate Monday to Thursday Time:: 9.30 AM to 12.00 AM .
Venue:: Different Location In Faridabad
For Age Group 8 to 13 yr & 14 to 17 yr
Contact:- Amar Gupta -9899319946, Anil.K.Gambhir-9810384215,
Ayurveda Nadi Parikshan Medical Camp

Last Sonday of the Month
Time:: Morning:: 9.30 A.M - 4 P.M.
Venue:: Shree Power Solution , Gopi Colony Chowk, Old Faridabad
For appointments/details please contact
Jagbir Sharma-9310295609;9811295609;01293295609
Please come empty stomach for check up
(At least 3 hour fasting)