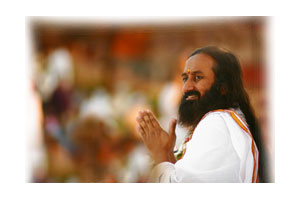 His Holiness Sri Sri Ravi Shankar Ji
founder of The Art of Living Foundation,is a renowned spiritual leader and humanitarian whose mission of uniting the world into a violence-free global family has inspired millions the world over. An icon of non-violence, human values and universal brotherhood, he seeks global peace through service and fostering human values.
Born in 1956 in southern India, Sri Sri's appeal cuts across all barriers of class, race, religion and nationality. Millions of Hindus revere Sri Sri as their religious and spiritual leader, while people of other faiths look up to him for inner peace and promoting ecumenical values. After Mahatma Gandhi, it is Sri Sri who has succeeded in uniting people of different traditions into a spiritual communion throughout the length and breadth of India.
As a child, Sri Sri was often found deep in meditation and at the age of four, he surprised his parents by reciting the Bhagavad Gita. His first teacher, Pandit Sudhakar Chaturvedi, was a close associate of Mahatma Gandhi. By the age of 17, he had obtained an advanced degree in modern science and later received honorary doctorates from Kuvempu University, India and Rajiv Gandhi University of Health Sciences, India. In 2006, Open International University for Complementary Medicine, Sri Lanka conferred the degree of Doctor of Philosophy (Holistic Medicine) on him.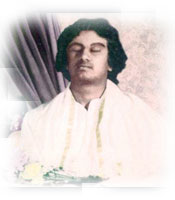 In 1981, he started the Art of Living Foundation, an international nonprofit educational and humanitarian organization with a presence in over 140 countries. Its educational and self-development programs offer powerful tools to eliminate stress and foster a sense of well being. In the United States, the Foundation's programs are helping youth in inner cities turn away from gang violence, drugs and alcohol, toward service. Sri Sri's Prison Programs have helped transform the lives of more than 150,000 inmates around the world.
In 1997, he founded the International Association for Human Values, a humanitarian Non-Governmental Organization that advances human values in political, economic, industrial, and social spheres. In India, South Africa, and Latin America, the Association is working in poor rural communities to promote sustainable growth, and has reached more than 30,000 villages.
Through personal interactions, teachings and humanitarian initiatives, Sri Sri has reached out to an estimated 300 million people worldwide. Sri Sri has revived ancient techniques that were traditionally kept exclusive, and made them available to the world. He has designed many self-development programs that help people to calm their minds and heighten enthusiasm.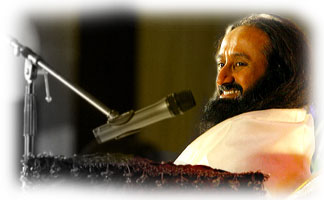 A leading figure in human development and social transformation, he is a multifaceted social activist whose initiatives include conflict resolution, disaster and trauma relief, prisoner rehabilitation programs, youth leadership, women's empowerment, campaigns against female foeticide and child labor, and education for all. In Kashmir and Sri Lanka, Sri Sri is working to further dialogue between opposing parties to resolve the conflicts peacefully.
Sri Sri travels to more than 40 countries a year to share his message that all the great spiritual traditions share common goals and values. He inspires leaders to balance business with ethics and social responsibility. His teachings of love, practical wisdom, and service promote harmony among people, and encourage individuals to follow their chosen spiritual path, while honoring the path of others.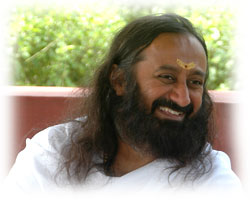 Sri Sri is the recipient of numerous honors including the Order of the Pole Star, top civilian and military honour - Government of the Republic of Mongolia (August, 2006), Sant Shri Dnyaneshwara World Peace Prize 2006 by World Peace Centre, India, the "Peter the Great First Grade Medal of Honor" from the Russian Federation, "2005 Global Humanitarian Award" by the state of Illinois, "Guru Mahatmya" award by Government of Maharashtra, India (September 1997), the title of "Yoga Shiromani (Supreme Jewel of Yoga)" by President of India (1986), Phoenix Award awarded by the Mayor of Atlanta, Georgia, U.S.A. (April 2002), the Title of the Illustrious Visitor, Argentina (2004), and many more.
Doctor of Letters Honoris Causa by Maharaja Sayajirao University of Baroda, India, 2007




National Veterans Foundation Award, USA, 2007




Honorary Doctorate of Science by Rajiv Gandhi University of Health Sciences, India, 2007




Varshada Kannadiga (Kannadiga of the Year) by ETV, 2007




Leadership Award for Extraordinary Promotion for World Peace and Harmony by Amity University, 2007




Sant Shri Dnyaneshwara World Peace Prize 2006 by World Peace Centre, Pune




Order of the Pole Star 2006, highest state honour by the President of Mongolia




Fervent Global Love of Life 2006 by the Cultural and Education Foundation of Human Life, Taiwan




Mahavir-Mahatma Award for Contribution to Peace, Times Foundation, India, 2005




Member of Martin Luther Collegium of Scholars, 2005




Honorary Doctorate of Literature from Kuvempu University, Karnataka, India




The Illustrious Visitors Award, Buenos Aires, Argentina, 2004



The Art of Living Foundation




International Association for Human Values




Ved Vignan Mahavidyapeeth




Sri Sri Ravi Shankar Vidya Mandir




Sri Sri College for Ayurvedic Science and Research




Sri Sri Ayurveda




Sri Sri Mobile Agricultural Initiatives




Sri Sri Pre-University College




The Sri Sri Institute of Management Studies




Sri Sri Ayurveda




The Sri Sri School for Performing Arts and Fine Arts




Sri Sri Rural Development Trust